We love all things beauty at Beauty Therapy especially Brows!
By Jemecia Finlayson
It's amazing how the detailing and shaping of ones eyebrows can create a refreshing compliment to ones overall appearance. I have dedicated my career to achieving the perfect eyebrow effect for my clients. Over the past 10 years there has been multiple popular trends aiming to achieve a more defined look. Whether you have thin brows, thick brows, curly brows or no brows there is a brow procedure that is perfect just for you!
Before choosing a method to enhance your client's eyebrows it is important to analyze the shape of the clients face, the texture of the hair, the fullness of the brows and the hair color of the brows. Lets break down the best brow enhancements based on four categories curly, thick, thin & bald.
For thick or curly brows, I found clients where often unhappy with the unruly direction of their brows. I found cleansing the brows with a mild brow solution would often soften curly brows and allowed for shaping and trimming to be more precise. The best treatment that I personally suggest for thick or curly brows is Brow Lamination. Brow Lamination is a semi-permanent way to add shape and volume to your brows. This brow trend is basically a perm for your eyebrows. If you have a heavy amount of brow hairs or curly hairs but you would like to be able to fluff them up or in any direction, you will fall in love with this procedure. I Often add tinting to this procedure for extra definition!
For thin and bald eyebrows I would highly recommend more permanent solutions such as Microblading, Microshading, Ombre Powder Brows or Combination Brows.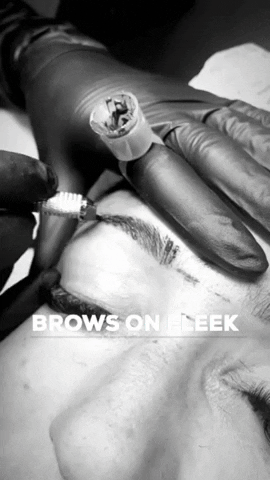 Microblading provides natural looking, hair-like strokes, regardless of the amount of hair that is present. Some clients suffer from alopecia, cancer, trichotillomania, or other conditions causing hair loss. Others may wish to correct, enhance or perfect their natural brows. Each session is fully customized to the client's skin, age, ethnicity, and desired outcome. The Microshading technique is better for oilier & darker skin types who tend to blur from microblading. Instead of drawing hair strokes, brows are shaded in by "tapping" pigment into the skin with a special needle.
Ombre Powder Brows is ideal for those who like a more made-up brow look or those who have a good amount of hair on the inner corners but missing the tail end of their natural brows. Combination Brows is a combination of Microblading & Microshading. This technique has a similar effect to Ombre Brows but less of a "light-to-dark" gradient look than Ombre Brows. The Microblading in the beginning of the brows just makes the brows look more natural.
With a large selection of brow enhancements to choose from. It can become very confusing to select the most appropriate procedure for each client. Some tips that I find most helpful is the importance of asking the client what their overall desires are for his or her brows, always analyze the clients face and always remembering to map and prep for all procedures listed above. Once mapping and prepping is complete and approved by your client. You may then begin to showcase your artistic talents.